THE MAIN ENVIRONMENTAL INITIATIVES OF 2019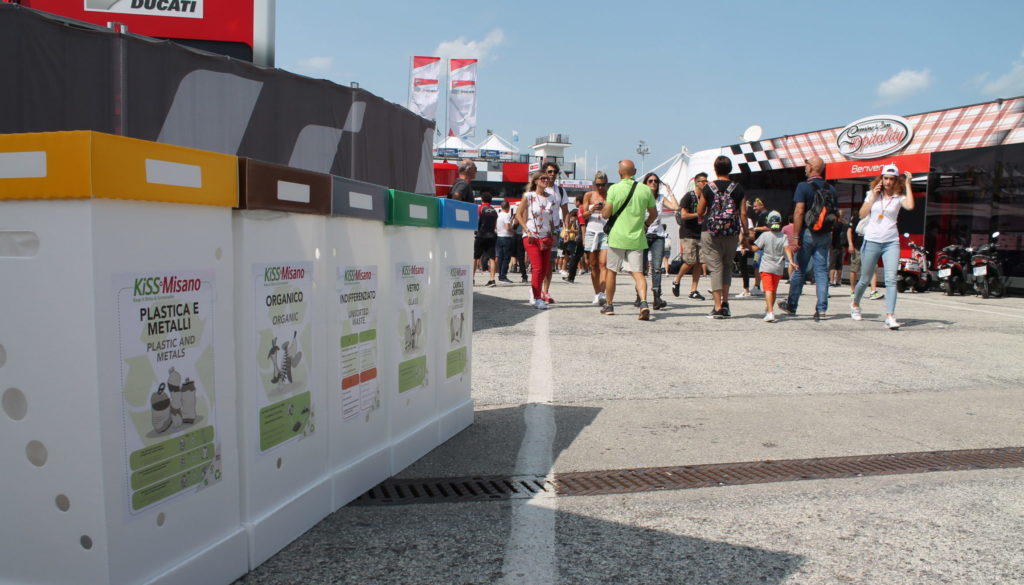 RECYCLING
Activities to increase the quantity and quality of the separate waste collection during the Grand Prix in cooperation with the operator of the waste management service (HERA Group).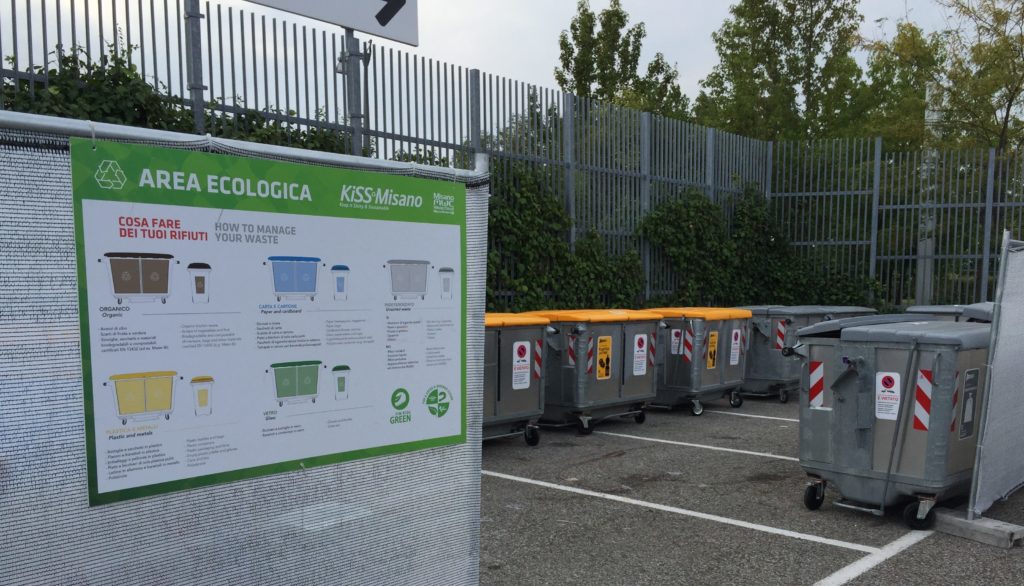 CIRCULAR ECONOMY
Recycling of the recyclable sorted waste collected thanks to HERA Group and the Italian National Consortia CIAL, Comieco, Corepla, CoReVe e Ricrea.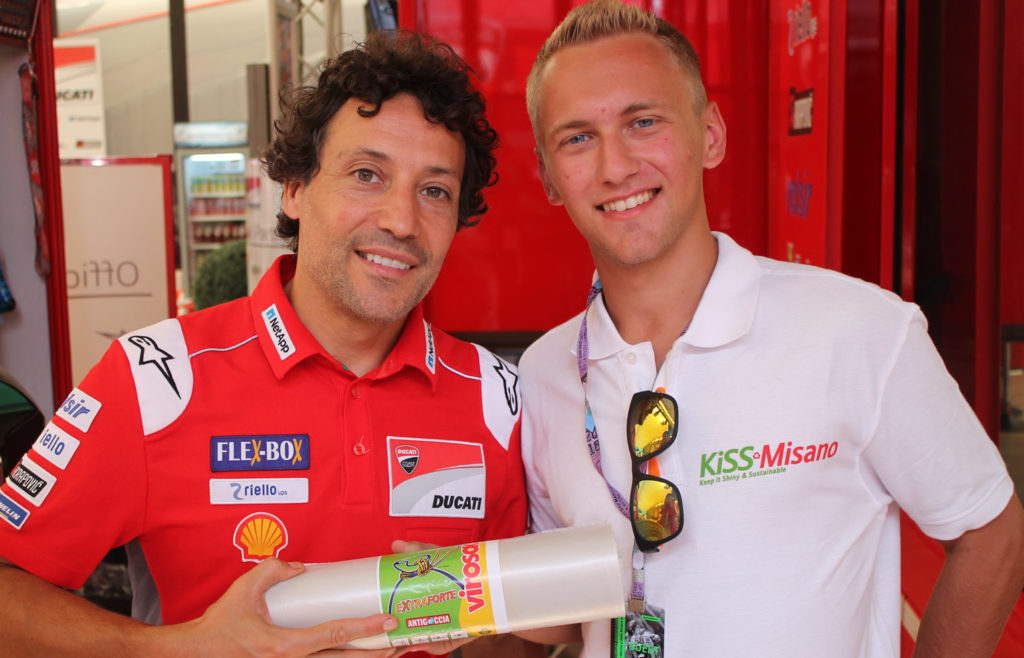 RAISE ENVIRONMENTAL AWARENESS AMONG OPERATORS
Raising awareness among operators, Teams and Hospitalities on the importance and benefits of recycling.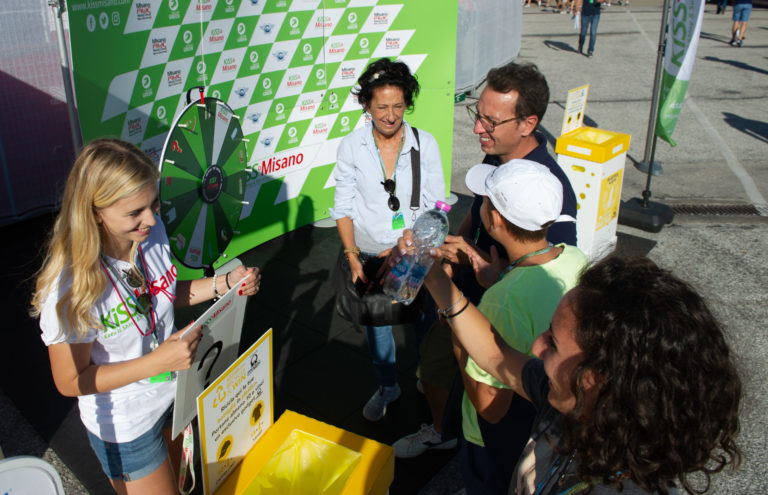 RAISE ENVIRONMENTAL AWARENESS AMONG SPECTATORS
Raising spectators' awareness about circular economy and on importance and benefits of recycling.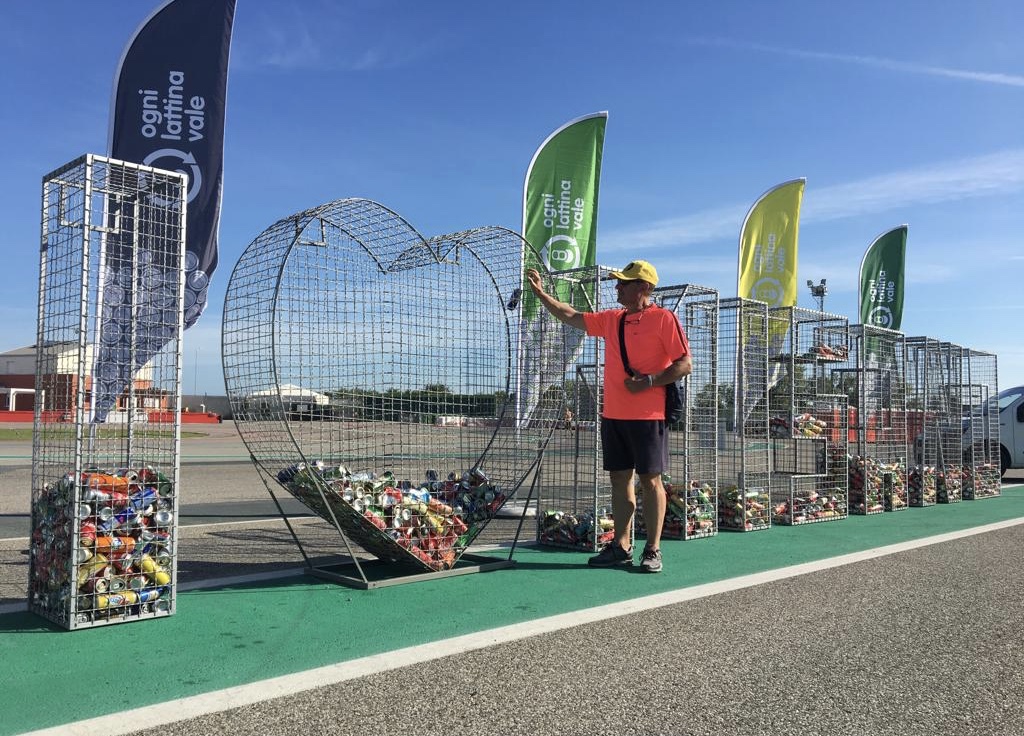 "EVERY CAN COUNTS" POWERED BY CIAL
With CIAL (National Aluminum Packaging Consortium), launch for the first time in Italy, with a special stand in the spectators Area ("kart track" area), the European aluminum cans recycling campaign "Every Can Counts" (Ogni lattina vale). To boost that campaign there were some "Green Riders", guys and girls of the KiSS Misano staff who will raise awareness of the correct recycling and recycling of aluminum cans by collecting them with a special backpack and inviting spectators to bring their own empty cans at the stand where they can participate in nice games and win items made from recycled aluminum.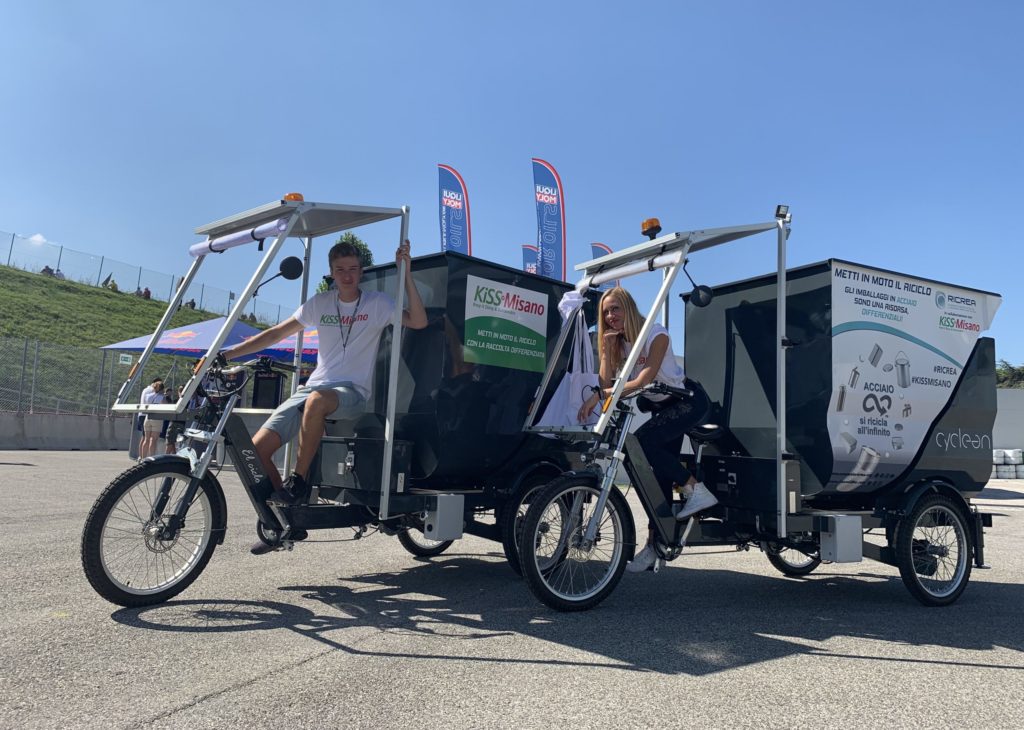 STEEL RECYCLING POWERED BY RICREA
Awareness campaign about the recycling of steel packaging. We used a mobile info-desk by which the KiSS Misano staff was be able to bring the public closer and aware of the importance of proper recycling of steel packaging and its "new life" in a circular economy perspective. Initiative in cooperation with Ricrea (Italian National Steel Packaging Consortium).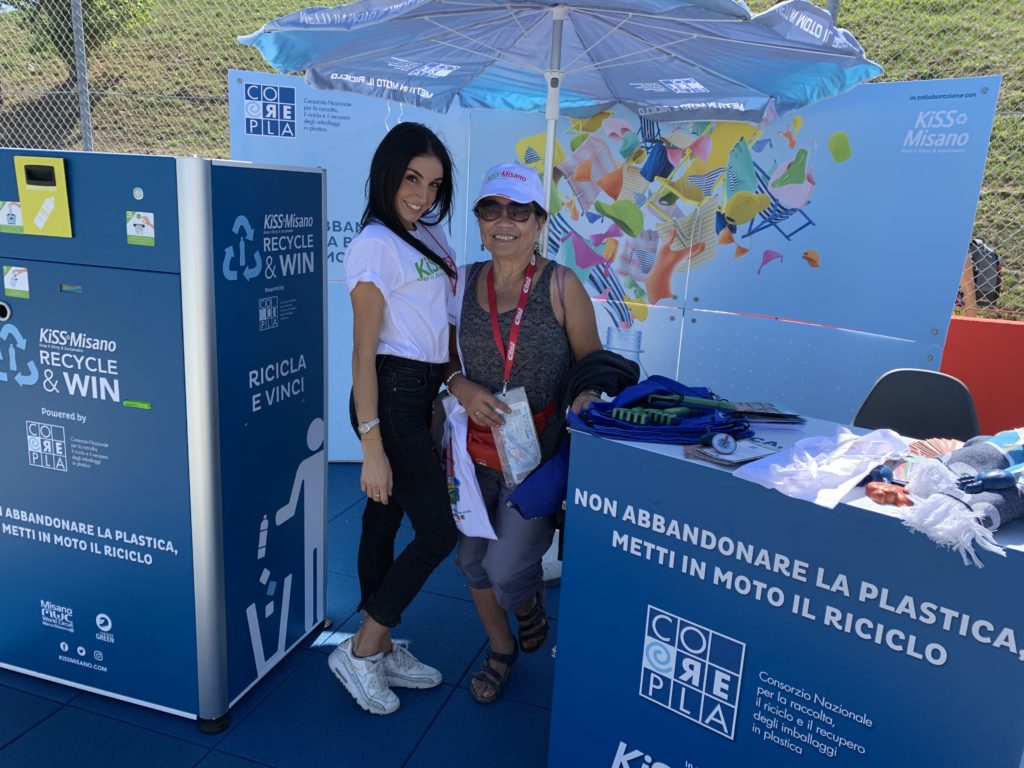 "RECYCLE YOUR BOTTLE & WIN" POWERED BY COREPLA
Placement in the spectators area ("kart track" area) of an info-desk on the topic of plastic collection and recycling: the indo-desk was equipped with benches in recycled plastic and a Reverse Vending Machine to encourage the recycling of empty plastic bottles and reward the most virtuous spectators with nice items made by recycled plastic. Initiative in cooperation with Corepla (Italian National Plastic Packaging Consortium).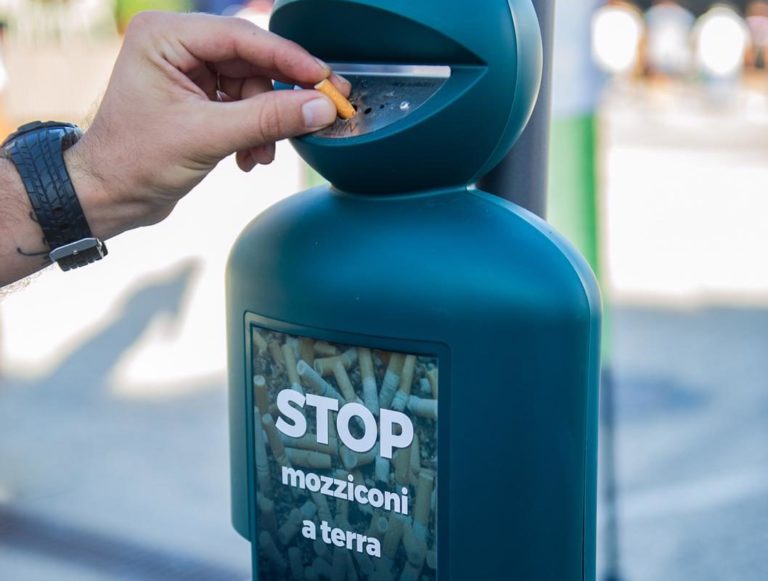 STOP CIGARETTE BUTT LITTER!

Awareness campaign against cigarette butt litter. The campaign aims to raise awareness amongst smokers and highlight the link between the cigarette butts they drop on the street or down the drain and its pollution.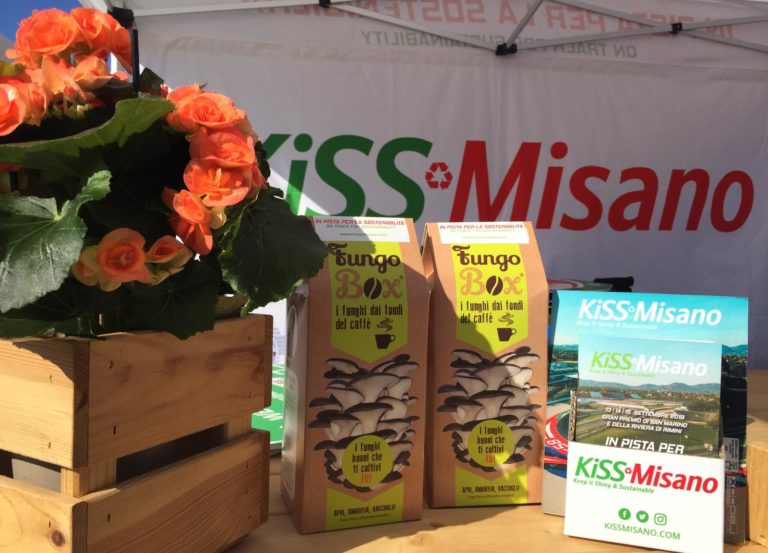 COFFEE GROUNDS RECYCLING
Collection of exhausted coffee grounds from the Teams and Circuit hospitalities participating in the initiative. The coffee collected will then be transformed by a social enterprise into a kit to grow edible, good and sustainable mushrooms at home (Fungobox®).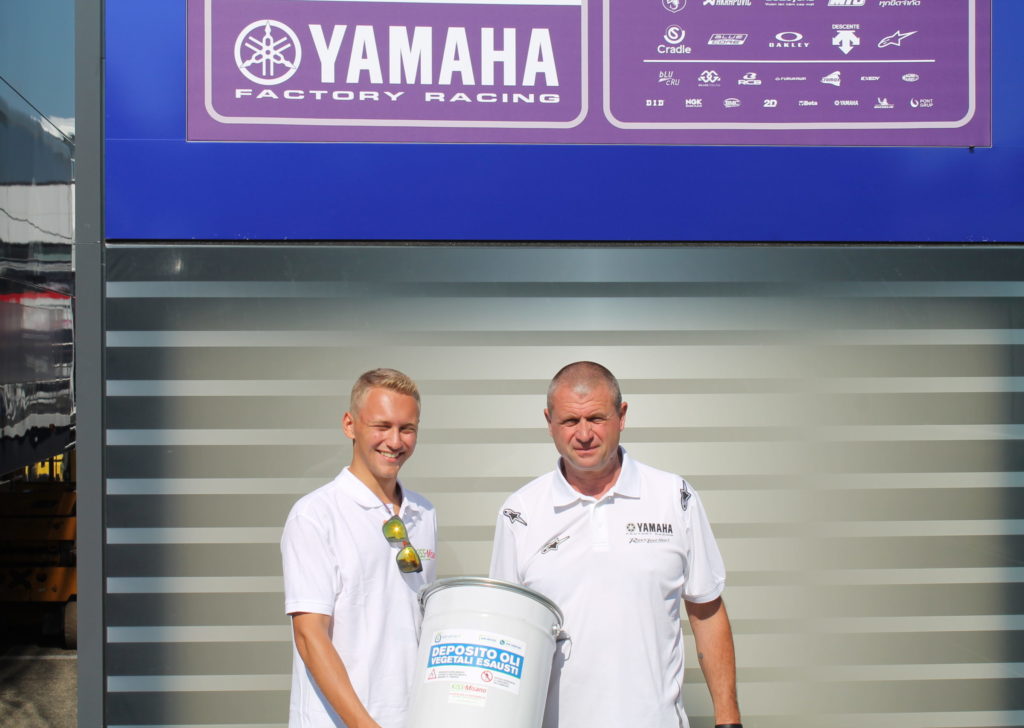 USED COOKING OIL COLLECTION
Collection and recycling of used cooking oil. Activity in cooperation with Adriatica Oli.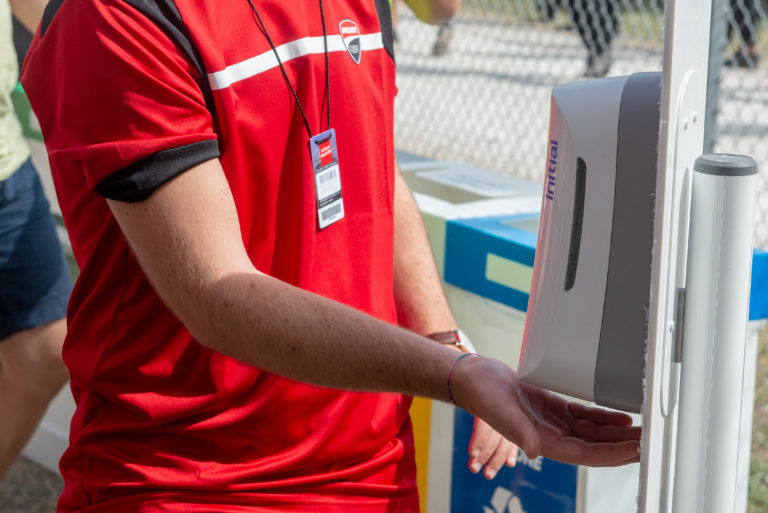 HAND HYGIENE
Placement at the KiSS Misano info-desks of a hand sanitizing gel dispenser to raise awareness of the importance of correct hand hygiene. Initiative in collaboration with Initial Italia.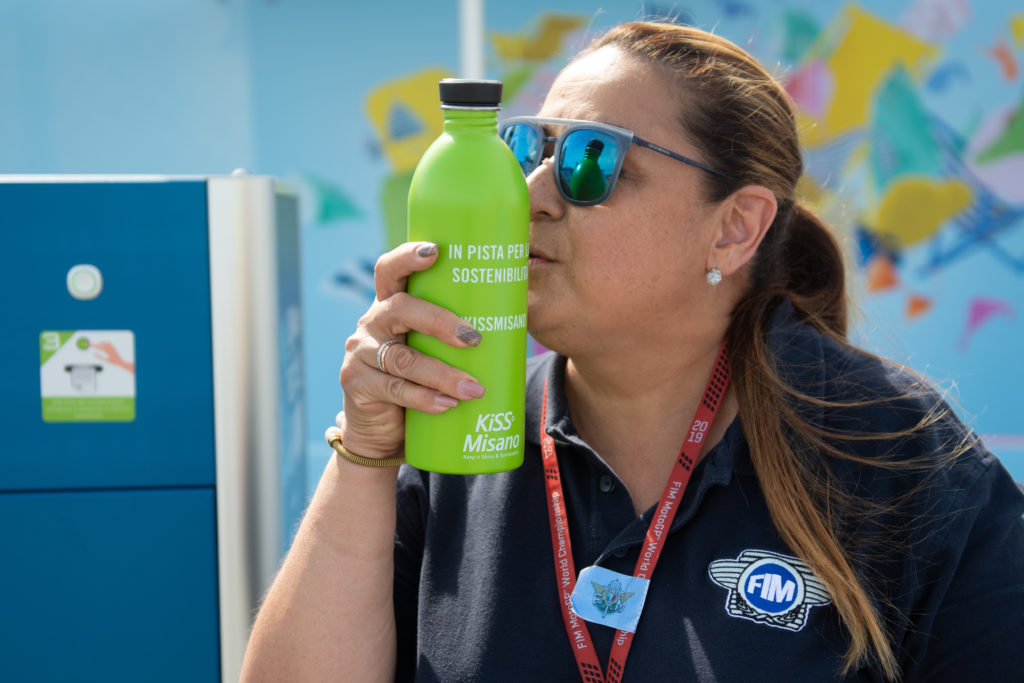 FREE DRINKING WATER TO SPECTATORS
Placement of an "Urban Water Station" in the spectators area ("kart track" area) to provide free still and sparkling drinking water with the aim to reduce plastic waste and encourage people to refill their containers rather than buy single-use plastic water bottles. Initiative in cooperation with HERA GROUP.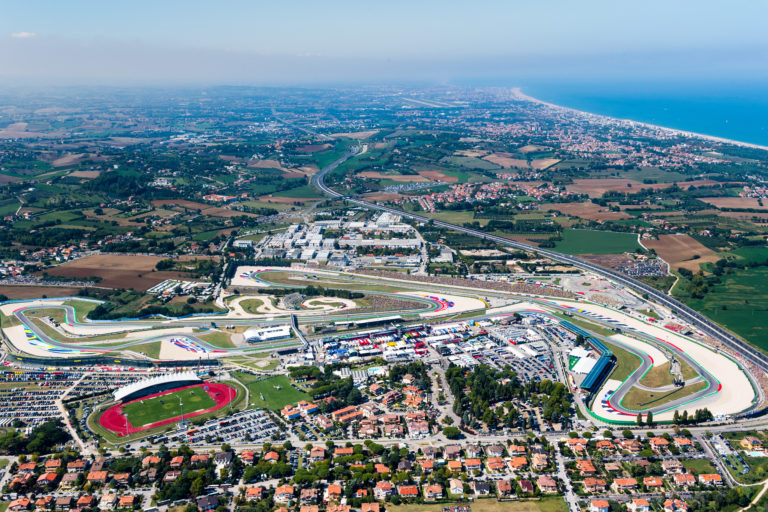 SAFE AND SUSTAINABLE MOBILITY
The sustainable mobility plan for the inflow and outflow of spectators is one of MWC flagships, starting with the "What ticket do you have? I'll tell you which way to go", which includes specific routes based on the type of ticket purchased. The plan was supported by a communication campaign also carried through social networks to encourage spectators to use public transport, trains, buses, car sharing, car pooling and bicycles. To raise awareness of sustainable mobility, the KiSS Misano Crew used for their mobility some Ducati Scramblers e-bikes.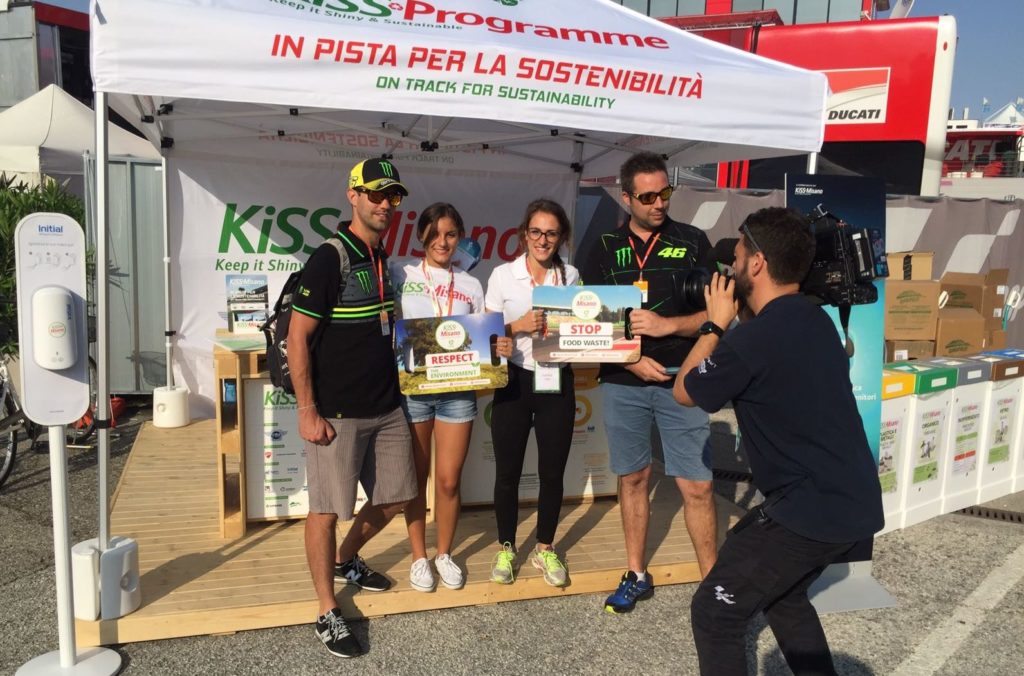 USE OF SUSTAINABLE MATERIALS
The furnishings are, where possible, in recyclable and / or recycled materials. Moreover, all our cellulosic materials (e.g. instruction sheets for separate waste collection, information totems and leaflet, indoor recycling bins) are made by FSC® certified companies on paper or cardboard from sustainable and legal sources. Initiative in cooperation with the Forest Stewardship Council® Italy.
FOR MORE INFO PLEASE DOWNLOAD THE OFFICIAL REPORT